Electrical testing across Croydon, Waddon, Wallington, & Carshalton
Are you a landlord, letting agent or selling your home in South London or Surrey? Use our reputable electrical testing services today.

Our NAPIT approved electricians provide professional and competent electrical inspection condition reports (EICRs) and electrical testing throughout South London and Surrey, including the boroughs of Croydon, Waddon, Wallington, and Carshalton. You can reach us at 07886786908 to set up an appointment for an EICR or electrical testing at your property.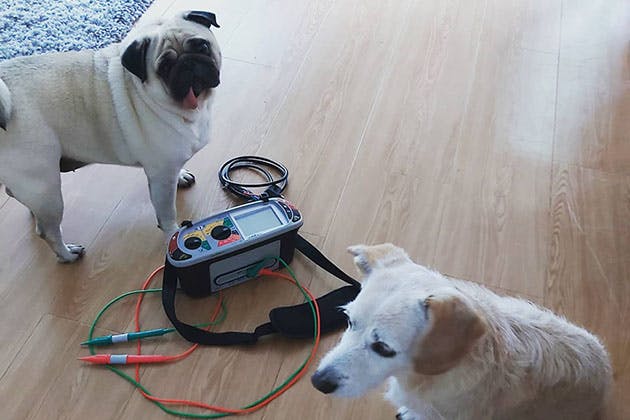 Some of our electrical testing equipment along with a couple of new friends.
We provide a range of electrical testing services in Croydon and the surrounding areas:

Electrical Installation Condition Reports (EICRs)
Emergency lighting inspection and testing
Portable Appliance Testing (PAT Testing)
Smoke alarm installation, inspection and testing

Electrical Installation Certificates
Minor Works Certificates
Visual Inspection Reports

Why is it important to test and inspect your property's electrical system?
If you own a rental property, the wiring should be inspected every five years. This is accomplished through an electrical inspection and the preparation of an electrical condition report in PDF format, which can be submitted to letting agents and insurance companies as needed. If electrical wiring and accessories are not tested and maintained on a regular basis, there is a risk of electric shocks, burns, and even property damage could occur.

Our electricians can provide guidance as well as schedule testing and inspections at regular intervals to ensure that health and safety laws are followed. This not only protects yourself or your tenants but also gives you peace of mind that your property complies with any rental or presale rules and is safe for continued use.

Why should you use CD Electrical to test and inspect your property's electrical systems?
We have over 18 years of expertise, so you can count on us to deliver great results. We can certify our work, saving you the cost of paying outside certifiers to check building codes. We're also fully trained and are proud to be a NAPIT approved electrical contractor, so you can be confident that you're in safe hands with us..
Our clients have also provided us with positive feedback for our electrical testing services; don't just take our word for it; you can read our customers' reviews by visiting the reviews page.

I have used Chris on a few occasions and each time he has provided a professional and quality service for me, he has installed interior and exterior lights and switches and has also carried out Electrical compliance works on a letting property. Highly recommended 5 stars!


Pino Valenza ⭐️ ⭐️ ⭐️ ⭐️ ⭐️
Looking for a local electrician for any electrical testing?

Looking for a local electrician for any electrical testing? Croydon, Waddon, Wallington, and Carshalton, as well as the surrounding areas of South London and Surrey, are served by our electricians.
You can book a service with us by calling 07886786908 or sending us a quick message using our contact form, and we will respond as soon as possible.
We hope you will choose CD Electrical for your electrical testing needs.