Electrical Rewiring Services in Croydon, Waddon, Wallington, & Carshalton
Professional electrical rewiring services are proudly offered across Croydon, Waddon, Wallington, and Carshalton as well as the wider area of South London and Surrey.
Any electrical rewiring services that you may want can be handled by our NAPIT registered electricians. It not only keeps your home secure, but it also prevents any subsequent electrical problems. To schedule a rewiring service, call us at 07886786908.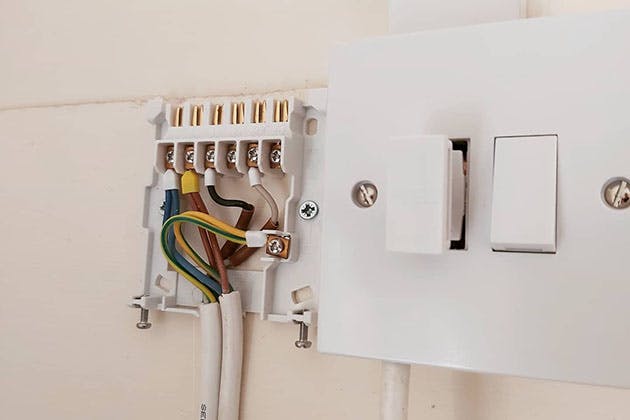 Electrical Rewiring Services In Croydon & the surrounding areas

The electrical wiring in your home can deteriorate over time, and if it no longer fits your needs, it is time to consider having your home rewired. Old electrical wiring could be dangerous; if you have any concerns, please call our skilled & experienced electricians today using the information provided below.
Also, if you have experienced an electrical fire or a flood in your home, the odds are that it could have done permanent damage, therefore you should look into getting the wiring in your home tested and replaced as soon as possible to keep you and your family safe.

When should you get your home rewired?
There are no strict guidelines about when you should have your home rewired. Even if your wiring is outdated, it could still be safe.
Before thinking about having your home rewired, we recommend that you consider the following:

Does your wiring show signs of wear and tear?
Is your property's wiring over 10 years old?
Are you a Landlord? It is now a requirement that rental properties should be retested every 5 years.
Have you moved into a new property that is over 25 years old?
Are you getting your home extended or a loft converted?
Have you experienced damp, flood or fire damage?

If you have answered yes to any of the above we recommend getting the electrics in your home thoroughly tested and inspected by a qualified electrician. This will help ensure that the electrical wiring in your home is working correctly and safely, so you can have peace of mind. Your electrician will then be able to advise whether you need to replace the electrical wiring in your home.
You may not require a full rewiring service and here at CD Electrical, we also offer partial electrical rewiring services as well as just consumer unit upgrades. Our fully trained and qualified electricians are on hand to guide you through this and are available across South London & Surrey including Croydon, Waddon, Wallington & Carshalton.



Why should you work with CD Electrical?
With over 18 years of experience, you can be confident that you will receive professional service from CD Electrical. We have also had extensive training and are proud to be NAPIT registered electricians, so you can rest assured that you are in good hands with us.
Choosing a NAPIT certified electrician also has advantages, such as having their installation work inspected on a regular basis to ensure it is finished to a high standard and fulfils all standards. We have done numerous rewiring projects in Croydon and the surrounding areas; you can view our work by visiting our gallery page.

Our clients have also given us great feedback for our electrical rewiring services; don't just take our word for it; you can browse through our customers' reviews by visiting the reviews page.

We've had real up & down experiences with certain trades over the years, but we are always impressed by CD Electrical. They turn up exactly when they say, are entirely professional, hard working and most importantly they really know their stuff. The service we always receive is spot on and we can live comfortably knowing that the standard of work completed is second to none, keeping our home & family safe. I have absolutely zero hesitation in recommending CD Electrical.


Lee M ⭐️ ⭐️ ⭐️ ⭐️ ⭐️
Looking for a local electrician for rewiring services?
Our electricians serve Croydon, Waddon, Wallington, and Carshalton, as well as the surrounding areas of South London and Surrey. You can book a service with us by phoning 07886786908 or sending us a quick note using our contact form, and we will get back to you as soon as possible.
We hope you choose CD Electrical for any electrical rewiring services you require.